"The score [of Erwin und Elmire], preserved in a new edition by Peter Tregear, is a revelation… The performance was charged by the energy of an excellent young cast… IOpera succeeded in bringing out significant historical material on universal themes in a palatable format." Daniela Kaleva, Music Forum, May–July 2008.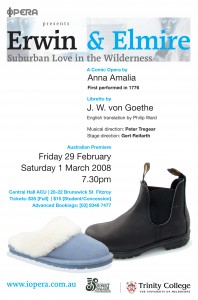 Our first production, an Australian premiere, was staged in Central Hall at Catholic University in Melbourne, on 29 February and 1 March 2008. Erwin and Elmire is a comic opera by Anna Amalia, libretto by Johann Wolfgang von Goethe, first performed in 1776.
The cast includes Suzanne Shakespeare as Elmire, Lee Abrahamsen as Olympia, Christopher Busietta as Erwin and Nicholas Jones as Bernardo. Peter Tregear was the musical director, Gert Reifarth the stage director, and the two of them produced the show with Xan Colman. Ether Hayes designed the costumes, Bronwyn Pringle the lights.
This production received two nominations for a Green Room Award 2009: Peter Tregear for Best Conductor of Opera, and Nicholas Jones for Best Male in a Supporting Role. Peter won the award! (View here)
"Ein Veilchen", sung by Suzanne Shakespeare-(Elmire) | Recorded live at Central Hall, ACU, Melbourne, 29 February 2008
IOpera Chamber Orchestra, conducted by Peter Tregear